Experienced, Quality Paving Services
Airports • Airforce Bases • Apartment Complexes • Driveways • Industrial Parks • Parking Lots • Roads and Highways • Schools and Churches • Shopping Centers and Much More!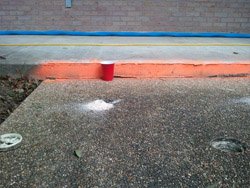 Sunbelt Sealing, Inc. offers complete quality paving and concrete maintenance services. We have the skill and capabilities to handle commercial projects. You can trust us to keep your pavement in good condition!
Our services include the following:
Asphalt Services
Asphalt Repair
Crack Sealing
Asphalt Seal Coating/Rejuvenator
Line Striping
Overlay Joint Sawing and Sealing
Parking Lot Maintenance and Sweeping
Concrete Services
Joint and Crack Sealing
Pavement Repair
Epoxy Spall Repair
Pressure Grouting/Slab Stabilization
Polyurethane Foam Lifting/Undersealing
We service the following:
Joint and Crack Sealing
Apartment Complexes
Driveways
Industrial Parks
Parking Lots
Roads and Highways
Schools and Churches
Shopping Centers
And Much More!